What do professional bloggers, Rolling Stone Magazine and Mercedes Benz have in common? They all use WordPress as the building platform for their websites. In fact, 62% of the top 100 fastest growing companies utilize WordPress to design their most innovative and cutting edge sites. The complete customization provided by this open-source website software, allows owners to design a unique look with total control over the functionality of their site. It sounds complicated, but you don't need to have experience coding to use WordPress. New site owners with zero experience can use WordPress to create a professional, eye-catching website that is welcoming to visitors and easy to navigate. If you have ever considered starting your own site but were unsure where to begin, the following information about WordPress can point you in the right direction.
What Is WordPress and How Does It Work?
Essentially, WordPress is software that allows users to set up and run their own website. With a seemingly endless capacity, WordPress can enable you to design any size or type of website you can dream up. Created in 2003, WordPress was originally used for bloggers and small internet publishers, with the intention of allowing anyone who wished to, to have a voice and presence online. The developers of WordPress were dedicated to the idea that publishing should be available to anyone. To this end they kept WordPress open to experienced developers who could work on the program through advanced coding, while at the same time, allowing the new user with limited computer experience to launch a website in an amazingly short time, often less than an hour.
WordPress is available as a free download from WordPress.org and can be run on any hosting platform. In fact, to make the process even simpler, most hosting providers include WordPress installation with their hosting packages. The availability of WordPress as a regular hosting feature is a testament to the software's unique features and ease of use.
Because WordPress operates under a General Public License, the software can be shared and modified by users at their discretion. In addition, WordPress offers a large selection of free plugins and themes so that your site can be unique and personalized to you. And you are not limited to what is available on WordPress itself, you can also purchase additional themes and plugins and install them just as easily on your WordPress site.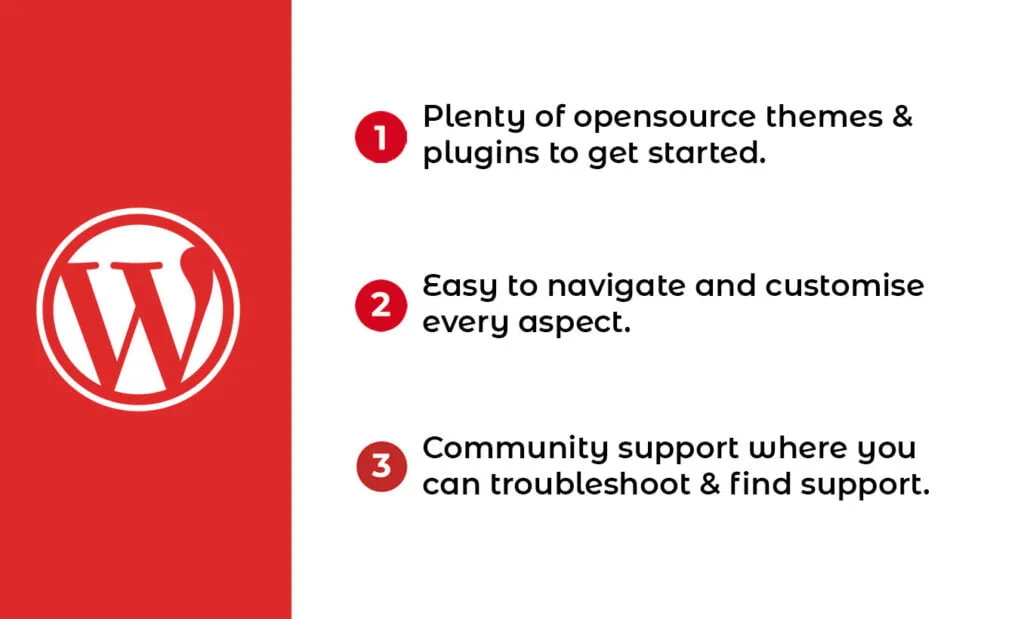 Getting Started With WordPress
As hard as it may be to believe, it is possible to get your website up and running in a matter of minutes, but first you need a domain name, a web hosting provider and a plan for installation. The installation of WordPress to your web host can be done manually by using a File Transfer Protocol (FTP) that installs the downloaded files in the domain or subdomain folders. Manual installation can be complicated and is only recommended for advanced users. Luckily, installation of WordPress may be included in your web hosting plan and can be auto-installed or accomplished with a single click. Earlier, if you are have web hosting with WashaHost we have shared the detailed articles on How to install WordPress manually? and How To Install WordPress via Softaculous? on the knowledge-base platform.
As soon as your installation is complete, the fun begins. Using the WordPress dashboard, you can choose your website theme, giving your site the personal touch that reflects your personality and tone, as well as adding plugins. Plugins are a must if you plan on using your site to conduct any type of business. Shopping carts, contact forms and gallery options are common business site plugins.
Adding Content To Your Website
Because WordPress was initially designed as a blogging platform, everything is text-based, making it simple to create a new post, or add an additional page. Inputting new content such as photographs, video, and text is also incredibly simple. You can type directly onto your site, copy and paste items from other locations and then adjust colors and fonts to suit your needs.
Other types of media can be added to your pages from the media gallery which allows you to reposition and resize content as well as edit titles directly in the content window. Embedding content from outside sources is easy to accomplish either on a page or blogpost.
WordPress software is a dream digital playground for writers, artists, and creators. There are magazine and art gallery plugins which beautifully display your images and creative content. Additional features allow you to manage visitor email lists, launch marketing campaigns and link content to your social media sites. All plugins are easily accessed and managed through the interface dashboard.
Your Website Your Way
Change is constant, and fortunately, very simple with WordPress. Ready for a new vibe? Rebranding? Or just a fresh new look? You can change the style of your website with a few clicks by adding a new theme from the directory, or importing a new theme from an outside source. Themes are updated in the theme gallery, while different header configurations, font styles and colors are changed from the WordPress dashboard.
To install and manage WordPress plug-ins with a simple click, go to the plugin directory. New plugins can be purchased and up and running in no time at all. You can also customize your plugins from the dashboard and when a plugin is no longer needed, you simply delete it.
WordPress User Support
Fellow users and developers of WordPress provide a community of support for website owners, and it's a big community! WordPress spans the globe and unites a whole network of people who are working to improve and update WordPress to the benefit of everyone. The open-source structure of WordPress software means that skilled developers are modifying and sharing the software with the ever-growing community. In order to learn more about WordPress and the most current developments, you can attend "WordPress Camps" where you can troubleshoot, brainstorm ideas, and find other support.
Leading web host providers also provide customer support and are able to help answer WordPress questions and resolve issues. There are also dedicated WordPress hosting providers with customer service representatives trained to exclusively focus on WordPress support.
The popularity of WordPress is due in large part to the ease of accessibility to all users regardless of their skill level, combined with it's appeal to users comfortable with tackling the complexities of website code. It's no wonder WordPress is the leading website building platform on the internet.
Summary
Being completely free and elastic for every purpose. WordPress is being used in several industries. It is a multi-purpose platform with tons of customization available. It is part of an open-source community growing massively with active community members where users can use the readily available free stuff (plugin/themes/extension), and developers can develop their stuff as per the requirements.
Hence, wordpress is considered the most user-friendly content management system by far. At Washahost, our platforms are highly compatible with WordPress, and our expert staff also helps our users with backend errors.